Inside Union Pacific's North Little Rock Rail Yard And Shops
Railroads have long been a key industry for Arkansas, with North Little Rock today being the home to one of Union Pacific's largest rail yards. It also houses a large locomotive servicing facility. The sprawling grounds are busy 24 hours a day with arriving and departing freight trains.
It's a complicated process, sorting rail cars that arrive from all over the country, changing crews and servicing the equipment. Directing the action from the top of a tower in the center of the yard is General Yard Master Robby Robelot. He says the biggest challenge is coordination and timing.
"It's a flow process through the yard, from the inbound to the outbound, to calling the trains, same thing on running mainline trains through here," Robelot said. "We try to be as efficient as we can and safe as we can. We really try to streamline the process through here. The flow is what makes the railroad work."
Like many here, railroading is in his blood. Robelot's father worked for the Missouri Pacific beginning in 1947 and eventually mentioned an opportunity to his son.
"They started hiring people in '76. They had a big hiring binge because they were having a bunch of people retire and he asked me if I wanted to hire out and I said 'why not,' so I've been here ever since."
Robelot started as a switchman, which is an entry level position, working his way up to conductor and has now been General Yard Master for 16 years.
"Riding the train, you basically take care of your train and that's it, whereas working as a yard master, you coordinate everybody. You're responsible for a lot more people as everybody calls the yard master for information, directions and instructions. It's sort of like an air traffic controller," Robelot said.
He was first hired by Missouri Pacific, which was eventually acquired by Union Pacific. Today it's the largest railroad in the United States, operating in 23 states, with more than 1,300 miles of track in Arkansas.
Working alongside Robelot in the tower is Kevin Russell, who is the Hump Yard Master. It's his job to coordinate from above as railcars are uncoupled and allowed to roll free down a hill, with retarders in the track slowing them to a manageable speed.
"We shove them up this hill, they're separated into one of the 64 different tracks that we have here in that bowl. Each track's got its own destination and they pull one of these tracks out at the other end and put it on an outbound train," Russell said.
On an average day, he says the North Little Rock yard processes anywhere from 2,100 to 2,400 cars.
Railroads have always been key to the city, with the first neighborhoods established on the north side of the Arkansas River after the state's first railroad, The Memphis and Little Rock, was completed around the time of the Civil War.
Like most other industries, railroading has become more computerized and much of the yard work has been automated.
Greg Rosales, director of terminal operations in North Little Rock, has been with the railroad 35 years, working at sites throughout the country. He's seen a lot of changes in that time.
"My biggest thing is technology. If you go back to even when we had the steam engines, then started the diesel electric operations, if you look at what we've been able to do with our signal equipment," Rosales said.
He also notes the use today of remote controlled locomotives in the yard, which has reduced the number of employees needed for moving rail cars, though all trains traveling outside rail yards are still manned.
Anytime you're dealing with large, rolling heavy equipment there are risks. Signs throughout the yard emphasize the need for safety, with one at the entrance noting the number of days since an accident.
Rosales says better communication and standardized practices have helped.
"There's a whole system. We're committed to safety and we see continuous improvements year after year. Just the people involvement is pretty much what carries it."
Another key part of the North Little Rock facility is the Downing B. Jenks shop, where about 500 workers service the engines. It is the largest and most modern locomotive servicing facility for Union Pacific and is the only place where its engines are overhauled.
Scott George, director of locomotive facilities, says at one time or another every one of the company's engines pass through the 225,000 square foot building.
"We've got three overhaul lines where we overhaul our locomotive engines for our mechanical department and we do about 410 of those a year. We've got a fleet of about 8,000 locomotives and we try to overhaul the locomotives once every 10 years, so quite a lot of locomotives to get overhauled every year," George said.
Union Pacific has nearly 2,700 hundred employees in Arkansas. Many are part of families that go back several generations working for railroads.
22-year-old Dino Jarrett is a fifth generation railroad worker.
"Dad told me a couple of years ago that they were hiring, so I decided to try and get on," he said while standing next to his father.
At this point Jarrett works in the North Little Rock yard as a switchman, helping to assemble the trains before conductors take them to their destinations. But he has larger ambitions.
"Right now I enjoy working in the yard 'cause I'm home every day. But yeah, I'd like to try to pay my dues, learn how to switch cars and do everything safely and then eventually get out to the road."
His father Dean Jarrett is a conductor, taking trains from North Little Rock up to Dexter, Missouri, then back south via Brinkley and Pine Bluff.
He tried other professions for a couple of decades, but the lure of the rails called.
"I farmed for 18 years and I drove a truck across country for three years and I've been out here since October of '02. I've always heard my family tell tales and stuff and I knew basically how it operated, but never until I got my feet on the ground."
The older Jarrett's great-grandfather started with the Iron Mountain Railroad in 1916, based out of the east Arkansas town of Wynne. His grandfather worked for the Missouri Pacific starting in 1937 as a switchman in McGhee. That's also where his dad worked as a clerk between 1955 and 1977.
"There's been a lot of changes for the good, for the safety of employees, but we still move freight just like they'd do, we still switch cars like they did, but we've got a bit more safety stuff that they didn't have," Jarrett said.
"They didn't have radios. It was all done by hand signals. My uncle told me one time somebody gave him a signal to back up and there was a man in between two cars and stuff like that. But now we've got two-way radios. It sure has come a long ways."
And with better equipment and newer technology, officials report the number of accidents and fatalities continues going down.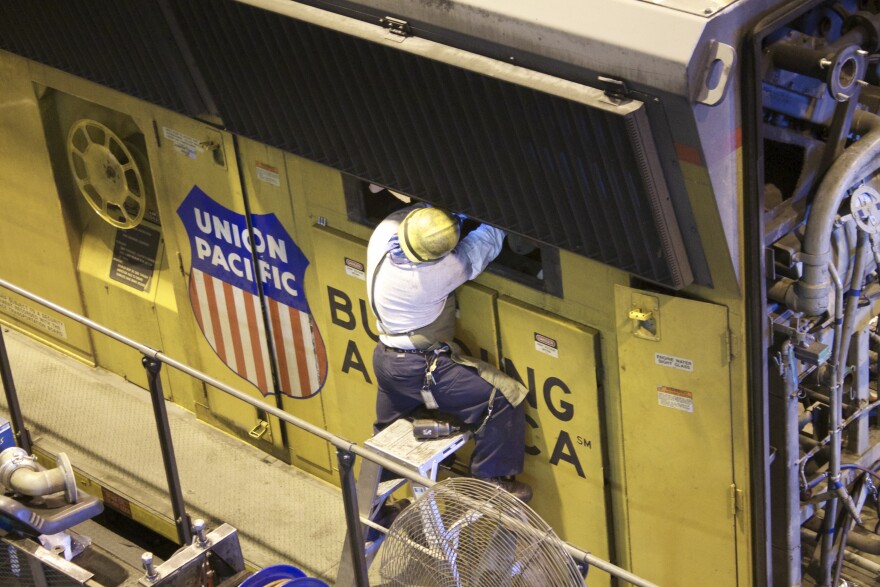 Financially, railroads are doing well. In the 1960s and '70s many companies were struggling to survive, with some going out of business or merging with other lines.
But deregulation of the industry has made it more profitable. Higher gas prices in recent decades have also helped push a lot of freight shipping from trucks to rails.
To meet that growing demand, Union Pacific officials say they will continue hiring and expanding the number of employees in the years ahead.