Feds Considering Arkansas Site Near Japanese Internment Camp To House Migrant Children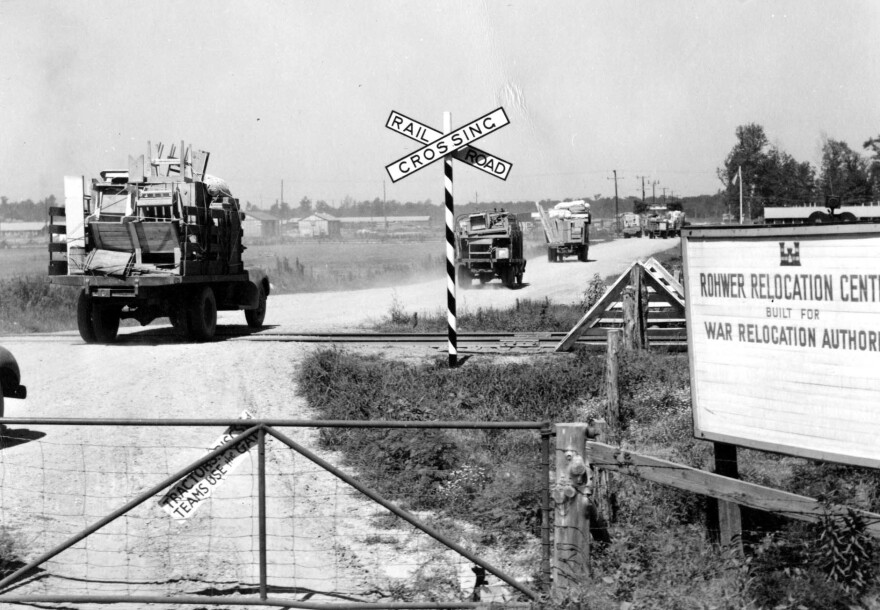 A day after President Donald Trump reversed his administration's policy of separating undocumented children from their families at the border with Mexico, officials from the United States Department of Health and Human Services were in Arkansas Thursday visiting two government-owned facilities as possible detention sites for unaccompanied migrant children.
One facility, a former United States Department of Agriculture facility in the Delta town of Kelso, sits less than two miles north of the former Japanese-American internment camp in Rohwer.
A statement from HHS spokeswoman Carla Daniels said officials are looking at the viability of the two locations.
At the request of the Department of Health and Human Services (HHS) and with the support of the U.S. Department of Defense (DoD) and U.S. Department of Agriculture (USDA) – HHS will be visiting unused Federal property in Arkansas for potential future use as temporary shelter for unaccompanied alien children (UAC). A site assessment will be conducted at:
· USDA Kelso Works 1, Kelso, AR
A preliminary site visit will be conducted at:
· Little Rock Air Force Base, Little Rock, AR
The USDA property will be assessed to determine the site's suitable for HHS to temporarily provide shelter for unaccompanied alien children (UAC) at some point in the future. The DoD property will be visited to determine if a more detailed assessment is warranted. USDA and DoD officials will join the HHS staff as they tour the vacant properties. HHS will make the determination if it will use either of the two sites for UAC operations. HHS will continue to keep local and congressional officials informed during this assessment and selection process. I'd also like to clarify that our notification was for UAC shelter not family detention. ORR/HHS is legally mandated with the care of unaccompanied alien children and operates shelters.
A spokeswoman for the Little Rock Air Force Base had previously confirmed that site was under consideration for housing detained migrant children. On Twitter, U.S. Rep. Rick Crawford, who represents the district encompassing Rohwer and Kelso, voiced his disapproval for the proposed site.
Federal agents are at a fish experiment station in Kelso, AR to look at setting up a potential immigrant detainment center. How is a tent city on a flood plain in SE Arkansas more appropriate than a tent city on the border? #Immigration pic.twitter.com/akrYSyDisc

— Rep Rick Crawford (@RepRickCrawford) June 21, 2018
The Rohwer Relocation Center was one of two internment camps in Arkansas used to house Japanese-American citizens during World War II.
Immigrants' rights advocates had been planning a rally at the state Capitol prior to the Trump Administration's policy reversal. Andre Guerrero, director of the local chapter of the League of United Latin American Citizens, said he sees a consistent theme of using immigrants to influence policy goals.
"The whole issue of immigration which is tied up with the politics of power in this country and who has power and how you get it and keep it, and using immigrants as hostages and scapegoats is really very sad," Guerrero said.
Guerrero sees the anti-immigration rhetoric from the current administration as a vestige of the historical past.
"The history of immigration itself has been very successful in this country, and we have had peaks of anti-immigrant sentiment, and this is one of them," Guerrero said.
One activist, Alejandro Wolfe Espinosa Villegas, came to the U.S. from Chile at a young age.
"This issue has been so convoluted with these executive orders, kind of like this centralist view that a lot of people in power… saying that these children are going to be taken care of in a compassionate way. These children are still being separated from their families," Espinosa said.
Guerrero said if he were allowed to speak to detained migrant children, he would have a message for them of strength and dignity.
"I would say stand your ground. We need you. We want you… There are some who don't. Ignore them. Become part of our great, wonderful country of America."
Espinosa had a similar message for those facing detention at the border.
"If I were to be able to talk to them, I don't know if any words would be able to come out of my mouth except that I see them, and I love them, and I'm going to fight for them until my very last breath."