COVID-19 Spread In Arkansas Prisons Highest In U.S. As Corrections Cases Rise
COVID-19 continues to spread within Arkansas correctional facilities as the state adds 787 new coronavirus cases.
Gov. Asa Hutchinson announced Wednesday's increase brought the state's total to 40,968, while an additional six COVID-19 deaths brought the death toll to 434. Seven additional Arkansans were hospitalized with COVID-19 Wednesday for a total of 508, while the state had a total of 6,596 active cases of the disease.
Speaking in his daily briefing on the campus of Arkansas Tech University in Russellville on Wednesday, Hutchinson said the state's testing efforts within correctional facilities are one reason for Arkansas's prison system having the highest per capita infection rate in the country.
"Part of the reason for that is that we have a much more comprehensive response when we have one positive test in the prison system, and so we will be testing maybe 1,000 inmates because they are in the same general pod or facility as one positive case," Hutchinson said. "They're not symptomatic but as a result of doing that, we will discover that cases that we report that other states that don't follow that same policy will not report."
A report by the Marshall Project shows Arkansas also has the fifth-highest number of deaths among prison systems in the U.S, and that inmates are infected with COVID-19 at a rate 1,715% higher than the rest of the state. Wednesday's increase of 787 new coronavirus cases includes 170 inmates of the state's correctional facilities.
Chicot County in southeast Arkansas had the highest number of new cases Wednesday with 152 residents testing positive, largely due to a new outbreak at a correctional facility. Pulaski County saw 82 residents test positive, with Sebastian and Benton counties adding 43 and 33 new cases, respectively.
Hutchinson also responded to a report by the Arkansas Democrat-Gazette showing that now-acting Health Secretary Dr. José Romero advised against the state moving to a second phase of reopening businesses in early June.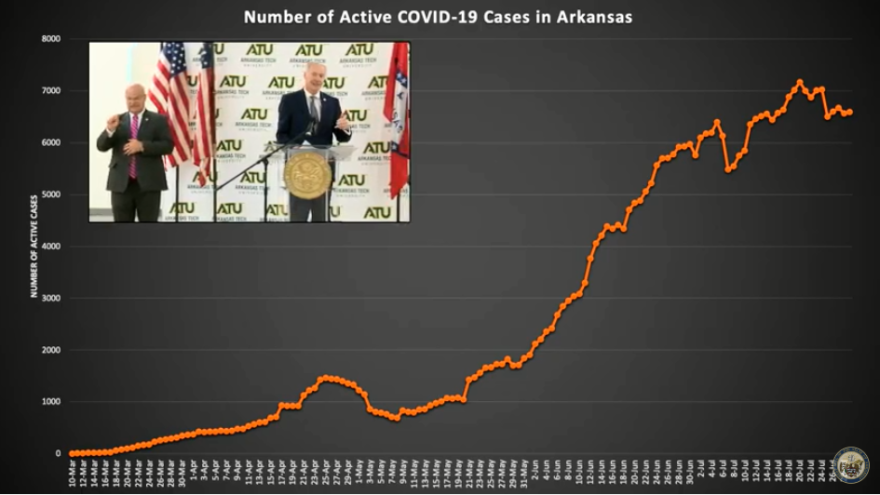 "There's never a unanimity of opinion but I love it whenever somebody, whether it's Dr. Romero or otherwise, speak out and states their opinion. In terms of the future whether it's sports or whether it is school, there's been a unity of opinion on the decisions that I've made," Hutchinson said. "I'm sure there's dissenting voices but they make recommendations, I listen to that, we make the best judgment that we can."
The report states Romero expressed concerns to then-Health Secretary Dr. Nate Smith that easing restrictions could lead to a rise in infections and overwhelm the state's healthcare system. Hutchinson announced the state would move to Phase 2 of the Trump Administration's reopening plan the following day.
With schools set to reopen in Arkansas between Aug. 24 and 26, Hutchinson said a county-by-county breakdown of average COVID-19 testing positivity rates will help determine individual school districts' response to infections among students and staff.
"The reason this information on positivity, on the case spread in the community is so important is it helps determine the level of response. It might be we need to shift for one or two days so we can do some cleaning and then move back into regular instruction, or it could be more strenuous response because there's a greater spread," Hutchinson said.
Dr. Jennifer Dillaha, medical director for immunizations and outbreak response at the state Health Department, said the decision on whether to close school facilities ultimately lies with the state Department of Education.
"The Health Department works with the Arkansas Department Education who works with the school districts to do that kind of functioning. So we are advising the Department of Education and those that deal with K-12 to provide guidance and information, so those kinds of decisions and things would fall under the Department of [Education]," Dillaha said.
Earlier this month, Education Secretary Johnny Key announced a system of "response levels" outlining actions school districts can take in response to a positive test result within a school or a rise in cases among the general public. Those range from enhancing hygiene and social distancing protocols and pivoting to remote instruction to extended closures of school facilities.