U.S. Army Medical Team Assisting UAMS Amid Staffing Shortage
A military medical team from outside the state is now working alongside medical professionals at the University of Arkansas for Medical Sciences providing much-needed assistance, officials say. The state-run hospital and medical school has been struggling with a staffing shortage amid the COVID-19 pandemic.
Dr. Steppe Mette, chief executive officer for UAMS Medical Center, welcomed the 23-person Army team to the facility during a press conference Monday. It includes physicians, nurses and respiratory therapists.
Mette said the hospital has expanded physical space available for the increased number of patients, but hasn't had an appropriate number of staff members to care for them. As a result, he said, they have had to turn away patients, including transfer requests from other hospitals.
"It's terrible because we pride ourselves on acknowledging and accommodating any request to take care of a patient that needs our services," Mette said. "To have to say that we can't do it because we don't have the staff to safely take care of a patient goes against our grain, goes against our nature. That's not who we are."
While the number of people hospitalized statewide has been down in recent days, he said the decision to submit an application for help to the Department of Defense was based on the anticipation of a resurgence in hospitalizations. The Federal Emergency Management Agency helped facilitate the request. .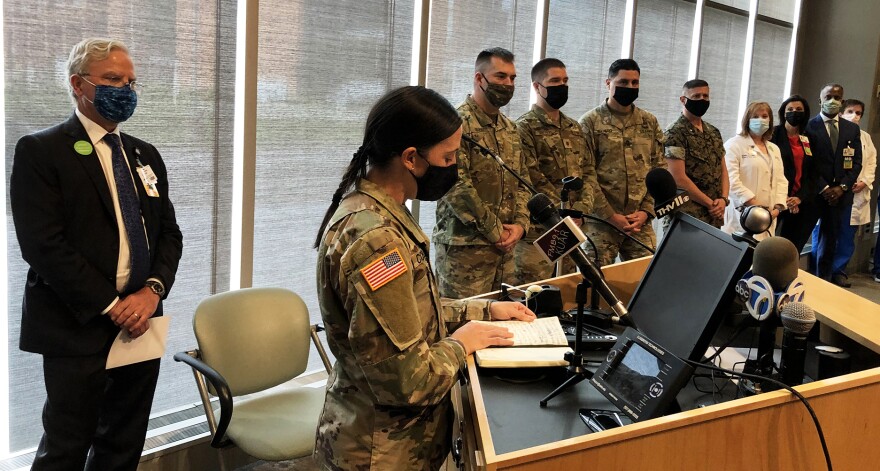 Metta said the team will be spread out through the COVID-19 critical care unit, the non-COVID intensive care unit, and the emergency department.
"The biggest impact will be that we'll be able to take care of more patients, more Arkansans that really need our help," Mette said. "The other benefit to us is some sense of relief and improvement of morale amongst our existing staff because they really have been working hard for 18 months, 19 months without respite, never complaining, but getting fatigued."
Mette said he couldn't recall the hospital ever having to make such a request for military medical assistance.
Sgt. 1st Class Deniel Badillo, the Army medical noncommissioned officer in charge, said the personnel arrived last Wednesday and became fully operational on Saturday. The contract is for 30 days, but Badillo said the length of their stay will be determined by how things are going.
"We remain committed and we're willing to stay as long as needed," said Badillo, a native of Chicago.
This story has been expanded and revised from its original version.