Civil Rights Attorneys Bring New Complaints Against Little Rock Police
More people are coming forward saying they too have been victimized through the Little Rock Police Department's practice of "no-knock" drug raids. On Tuesday, civil rights attorneys Benjamin Crump and Mike Laux held a press conference that ran more than an hour and included 12 people sharing their experiences of officers using explosives to enter their homes.
The department has said such raids are reserved for people who are suspected of being dangerous, but the attorneys called the practice unconstitutional. They say the raids are often based on false information and that when homes are damaged during the raids, the wrongly accused people are the ones who have to pay for repairs.
With a new mayor about to be sworn in and a new police chief to be hired, there are hopes for a change in police practices, but the attorneys say problems at the department are institutional, having spanned the administrations of many police chiefs and mayors.
11 of the people who spoke Tuesday held signs that said "I was framed," while another had a sign that said "I was shot." Most hadn't spoken publicly about their experiences and said they approached the attorneys after learning that others had endured similar incidents. Roderick Tally, Derrick Davis Jr. and Candice Caldwell, who had taken part in previous press conferences, were also there.
Attorney Crump, who is based in Tallahassee, Florida, said a pattern of misconduct is becoming clear.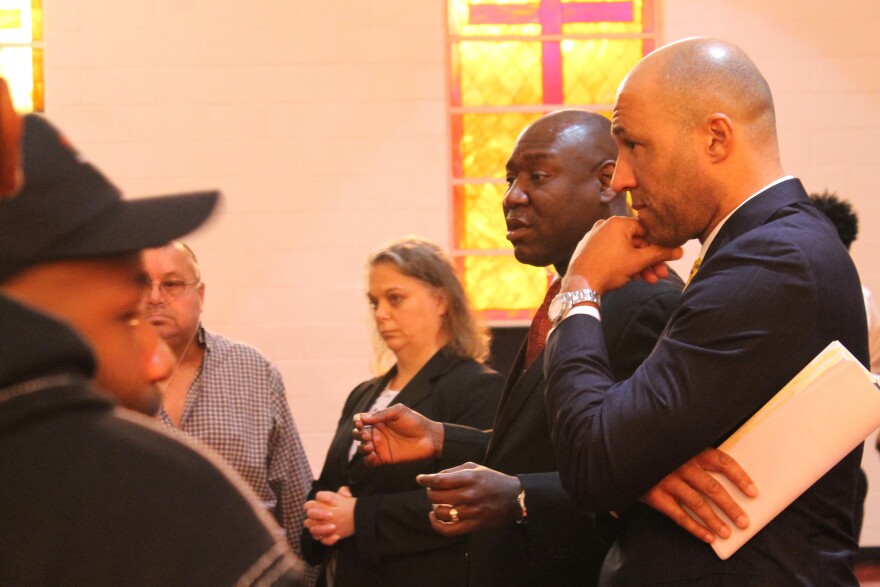 "You're talking about an unconstitutional search and seizure to blow down my door; destroy my property? You all heard the stories about how people could not afford to put their doors back on and it's wintertime now and the city has not been responsive at all at this point," Crump said.
Lloyd St. Clair said he was shot by Little Rock police officers on Sept. 1, 2016. Attorney Laux said the 59-year-old former truck driver had no criminal history and had been wrongly accused by a police informant of being involed in methamphetamine.
"The law busted into my home and during all this I was in the bedroom. Well I just got up out of bed and they shot me through the wall. They shot eight times, hitting me three times for no reason at all," St. Clair said.
Police have said they shot St. Clair because he pulled a gun, which he didn't dispute Tuesday. St. Clair said he had been asleep and was rattled by the sound of an explosion and people entering his home.
"I jumped up out of the bed – first thing you're going to do is grab your gun," St. Clair said. " I didn't know what was going on… that's what they seen sticking out of the door was the gun."
St. Clair claimed he didn't aim the weapon at officers. As he spoke to reporters, St. Clair was holding an oxygen tank, needed for an unrelated medical condition. He said there was a oxygen tank inside the home when police opened fire and called it fortunate that gunfire didn't cause the tank to explode.
Laux called it another example of Little Rock police using deadly force without having reliable evidence.
"They claimed they would find scores of methamphetamine, enough to distribute all over the southern part of the United States. What they found that belonged to Mr. St. Clair was the equivalent of about three marijuana joints that had been in his home for approximately a year," Laux said. "That's what they found. That's what necessitated, and apparently that's what justified firing shots from a AR-15 through a wall to a man who's in his bed."
Others spoke about the terror of raids, sometimes with young children present, and when police didn't find what they were expecting, having charges dropped or reduced.
Little Rock City Attorney Tom Carpenter did not return a call from KUAR seeking comment. In a written statement in October, he said department policies comply with state and federal civil rights laws.
A new Little Rock police chief will be hired to replace Kenton Buckner who has accepted a job leading the police department in Syracuse, New York. After the tenure of Mayor Mark Stodola, Frank Scott Jr. will be sworn in as mayor on Jan. 1.
Crump – who was involved in the high profile case of Trayvon Martin in Florida – said he hopes new people will lead to a change.
"We know that there is new leadership and there are new administrators in Little Rock, so we are appealing to them to try to make this wrong right. That's what the people want to see, true leadership."
Scott will become Little Rock's first black mayor to be elected by voters. Laux, who is based in the city, hopes Scott will bring a new perspective.
"We think Frank's election and his victory really serves as a mandate for change in the city. And we think that change should begin with a revamping of the police misconduct review process. We think that there should be more independent and citizen input in that process."
A spokeswoman for Mayor-elect Scott said he was not available to comment Tuesday, but that his position on the use of no-knock raids hasn't changed since Scott posted a statement on his campaign website on October 15. Scott said that "as a black man and lifelong resident of Southwest Little Rock, I can tell you that there's nothing new about 'no knock' raids."
We have to not only make residents who have been raided whole for property damage and other damages they suffer as a result of this kind of activity, but there also has to be a place where citizens can go for filing complaints that can lead to changes in policy from LRPD regarding these kinds raids and "no knock" warrants. These raids violate our residents' Fourth Amendment right and federal law, and I will strongly support a full investigation into this matter.
The Little Rock police practice had generated national attention a day before Scott's statement because of a Washington Post column which online included surveillance camera footage of a police raid on Roderick Talley's home.
The following week, Scott posted this on Oct. 24:
On Thursday October 18th, I sent the Department of Justice's Acting Attorney General for Civil Rights and the Civil Rights Division's Special Litigation Section a letter asking them to initiate a "pattern-or-practice" investigation into the Little Rock Police Department's use of these tactics to determine if they have violated the constitutional rights of our residents. I stand with the call for justice for Roderick Talley and other similarly-impacted Little Rock residents.
Scott attended one of the earlier press conferences by the attorneys, but they said a change in leadership for the department and city might not be enough, suggesting the conduct is deeply entrenched.
"The patterns of this department preceded the chiefs," said Laux. "These no-knock warrants, this is a chronic problem that is part of the institution. It's a problem with the boat no matter who the particular captain is, okay? So the boat needs to be repaired. It's not the captain. And so, whomever they bring in next, I hope he or she is a reformer and takes serious note of these problems, but he or she will never change what's going on here unless they are willing to fix the boat."